Watch porn movies from Brazzers on your mobile phone, smart phone.

Free Porn Movies for your mobile phone.



New Scenes From Mobile Brazzers:

May 22, 2013


Mobile Brazzers Presents:
When Johnny Cums MILFing Home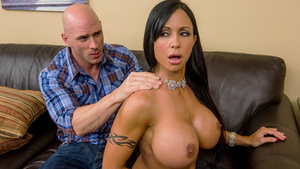 CLICK TO PLAY VIDEO
When Johnny Sins decided to offer the slutty MILF, Jewels Jade, a lift home he knew exactly what kind of trouble he's getting into. Her house was just far enough for her to stare long enough at Mr. Sins pants and drool at his obviously huge cock. No wonder Jewels's hands is desperate to hold that cock in her hands and feel its warmth inside her big mouth. When they arrive at Jade's place, she is determined to do whatever it takes just to get what she wants. Its just a matter of seducing Johnny where he eventually gave in, he pulls out his cock which drive Jewels crazy. She couldn't help but wrap her lips around it and swallow it whole including the balls. She was really hungry for some crazy fun action so she intentionally slips off her top and her huge tits pops out right away. Johnny slams her face before rubbing between her two big melons. Afterwards, Ms. Jade spreads her legs wide showing off her wet and yummy pussy and she's in to push her fucking skills to the limits. She likes to be on top and being in control of the hard action however it doesn't take long until her ass was also pounded big time by Johnny's thick dick. At the end she has a difficulty opening her eyes due to massive cum facial!
Starring: Jewels Jade
Mobile Brazzers Network Site:
Milfs Like It Big
More on Brazzers for Mobile...
May 21, 2013

Mobile Brazzers Presents:
Robbin' And Rubbin'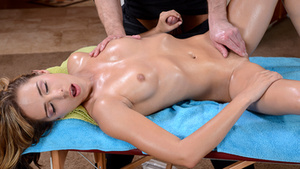 CLICK TO PLAY VIDEO
The newbie thief Bill has decided to loot Ella's Lingerie as his first mission. But when things go wrong he has to think fast before the sexy homeowner calls the cops. Luckily Ella is actually waiting for her masseur and our burglar Bill instantly changed his mission from a thief into a dirty masseur. He was shocked upon seeing Ella's young and fresh body naked in front of his eyes. At first he was shaking when he touches her hot ass but when he finally got comfy he rubs her body like a pro and later on uses his ultimate massage tool, his huge fucking dick. He rubs it on her tits and her face before sticking it on her mouth. Ella surprisingly liked it and just licked it and tickles it with her tongue. After getting a wild blowjob, its now his time to give her pussy a toe-curling massage with his tongue, hitting the right spot where she screams for pleasure. After getting an intense warm up, Bill fucks her tight pussy very hard in a doggy style position. Its her favorite position getting fucked from behind and getting all access to her young pussy. Ella ended up robbed with all her lingerie but still happy savoring Bill's sweet cum on her mouth.
Starring: Ella Milano
Mobile Brazzers Network Site:
Dirty Masseur
More on Brazzers for Mobile...
May 20, 2013

Mobile Brazzers Presents:
Fuck to the Top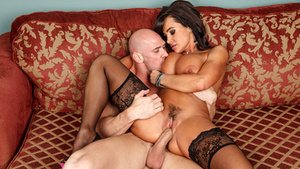 CLICK TO PLAY VIDEO
Lisa is working as a secretary on her husbands company. She has a big tits and fuckable pussy which her husband love to fuck everytime at the office. When she finds out that her husband hired her for her pussy and not for her brains, she then decides to take out her anger treating other employees like she's treating her pervert husband. She proceeded to Keiran's office whom she knows has a big cock, and start teasing him rubbing her entire body and by the time she feels his cock, its already hard as rock ready to fuck her brains out. She quickly drops to her knees and gives a satisfying cock sucking warm up. It instantly gives him a toe-curling sensation where he almost explode but luckily he has a pretty good control having a enough time for a pussy fucking action. Keiran realized it's true her pussy works better than her brains and she has to be promoted for her incredible fucking ability. She ends up being fed with hot sticky cum right to her mouth!
Starring: Lisa Ann
Mobile Brazzers Network Site:
Real Wife Stories
More on Brazzers for Mobile...
May 18, 2013

Mobile Brazzers Presents:
Homewrecking MILF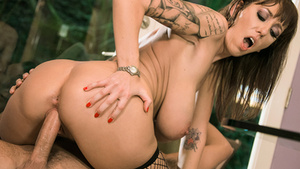 CLICK TO PLAY VIDEO
Keiran's father is inviting him to a dinner. Apparently, his father wants him to meet the woman who destroyed his parent's happily married life. The homewrecker's name is Janine, a sexy hot MILF with juicy ass and big tits. No wonder his father was attracted to her because this woman likes to seduce guys with big cocks. When Keiran and Janine was left alone, now its his chance to make revenge and take out that anger at her gorgeous body. Like father like son, he too has a monster cock that Janine craves for, once she reached inside his pants, she eagerly grabs with two hands and starts jerking it until it turns rockhard! Keiran gets more horny when she sucks it like a lollipop before Keiran sticks his dick between Janine's bouncy boobies then fucks it really hard. It became more intense when he starts going under her and tickles her clits using his tongue where she moans very loud into pleasure. It doesn't take long until he pressed her against the wall and fucks her hard in her tight little asshole. Surprisingly, Ms. Janine loves it so much getting fucked from behind and decided to make Keiran her new fuck buddy. She ends up having a messy cum juice all over her face.
Starring: Alia Janine
Mobile Brazzers Network Site:
Mommy Got Boobs
More on Brazzers for Mobile...
May 16, 2013

Mobile Brazzers Presents:
Full Dis-Clothe-Her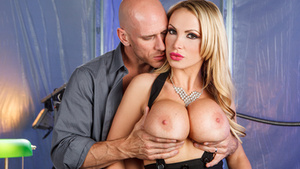 CLICK TO PLAY VIDEO

Johnny Sins and his mates are working double time to meet the deadline of a very important report. They need to present this to their strict boss, Nikki Benz but every guy seems to lose concentration once Nikki is around because of her sexy hot ass and big tits. Their eyes stare at her like a maniac who wants to stick their dick on her big boobs. When Ms. Benz asks Johnny to meet her at the conference room for a serious meeting, he must be well prepared including his cock 'coz he might get lucky to be given not just a two thumbs up for a job well done, but a wild fucking session he always craves for. Johnny was shocked when he saw Nikki stripping off her clothes revealing her precious tits. He quickly move to her back and reach her big melons to feel the huge size with his own hands. No wonder his dick turns hard as rock instantly and it became more intense once her slutty boss grabs it with two hands and start licking the dick head then giving him a serious blowjob. He returns the favor licking her pussy and asshole from behind while she was in doggy style position. Nikki loves it so much and she so heated up ready to get fucked hard. Johnny makes sure he pounds her like a wild dog and give her the proper anal penetration she truly deserves. Nikki ends up spreading a huge amount of sticky cum all over her boobs.

Starring: Nikki Benz

Mobile Brazzers Network Site:
Big Tits at Work

More on Brazzers for Mobile...







These porn videos work great with smartphones such as:

Apple Iphone iTouch AT&T

Google Android Phones for T-mobile:
G1 - MyTouch - Motorola Cliq

Verizon Android Phones:
Motorola Droid - Droid Eris

Sprint Android Phones:
HTC Hero

Palm Pre

Blackberry Storm - Storm2
and other Blackberry Phones