Watch porn movies from Brazzers on your mobile phone, smart phone.

Free Porn Movies for your mobile phone.



New Scenes From Mobile Brazzers:

July 24, 2014


Mobile Brazzers Presents:
My Boyfriend Would Never Cheat On Me!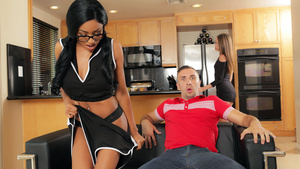 CLICK TO PLAY VIDEO
Keiran Drops by at his girlfriend's house to celebrate her birthday and there he finds her slutty best friend Anya Ivy to join them. They wait patiently at the living room while the birthday girl is having a shower. She is confident the her boyfriend would not do anything to hurt her but then Keiran has a big crush on Anya specially her big natural titties. Anya notices him staring at her big round melons which makes her horny. She knew Keiran has a big cock and that turns her into mood so she strips her top so he could lick and suck her nipples while squeezing and worshiping her boobs. She returns the favor by giving him a nice and sloppy blowjob also sucking and rubbing his balls until his toe curls for extreme oral pleasure. The she spreads her legs wide and stick his thick cock right in her little tight pussy fucking her hard like a real whore she is. And before they get caught, Keiran unloads a massive jizz across her pretty face!
Starring: Anya Ivy
Mobile Brazzers Network Site:
Baby Got Boobs
More on Brazzers for Mobile...
July 23, 2014

Mobile Brazzers Presents:
Sucking Her Way Out of Expulsion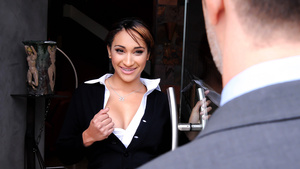 CLICK TO PLAY VIDEO
Horny college girl doesn't go to school not just to learn but to suck random cocks. And because she always gets into trouble for being slutty, her professor Keiran Lee decided to drop by her home and tell her parents of her possible expulsion. Without hesitations, Lola drops on her knees not to beg her teacher to save her academics but to grab and feel his fat dick before licking its long and veiny shaft. She gives him a nice slow and sensual blowjob before taking off her tight and sexy uniform so her professor can have a clear look on her sweet tight pussy. Keiran cannot help but play with her bouncy fake boobies as he tittyfucks them so hard and then he eats her tiny shaved pussy making her moan and groan so wild out of pure pleasure. Later on they found themselves fucking like maniacs where Keiran goes balls deep to satisfy this slutty schoolgirl. Finally she ends up so happy when Keiran lets her stay from the university but first she must take a massive cum facial.
Starring: Lola James
Mobile Brazzers Network Site:
Big Tits In Uniform
More on Brazzers for Mobile...
July 21, 2014

Mobile Brazzers Presents:
Dreaming Boobies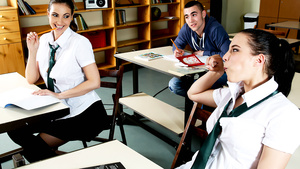 CLICK TO PLAY VIDEO
Connie Carter is a naughty college girl who does not pay attention to her professor, Denson because she is busy daydreaming about his big cock. She easily becomes wet as she thinks of him worshipping her big natural titties before she jerks his cock and wraps her warm red lips around his dick head. She licks like a sweet lollipop sliding her tongue from the dickhead to his balls. When its wet and ready, she sticks it between her huge boobies and gets the tittyfucking she really dreams of. Then, she continues with her wild imagination as she spreads her legs wide and get fucked in little tight pussy where she moans and groans to total sexual pleasure. She ends up on her knees as Denson blows a huge juicy load all over her pretty face!
Starring: Connie Carter
Mobile Brazzers Network Site:
Big Tits at School
More on Brazzers for Mobile...
July 14, 2014

Mobile Brazzers Presents:
Testing My Son In Law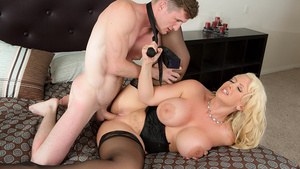 CLICK TO PLAY VIDEO
Alura Jenson is a little worried about the upcoming wedding of her daughter. She has a bad feeling that somehow her groom, Brick Danger won't be faithful to her daughter and just hurt her so to find out, she decides to put him to the test before they walk down the aisle. She drops by Brick Danger's hotel room with the intention of tempting him. She teases him as she removes her top showing off her big fake tits, in which Brich instantly got turned on. She grabs his boner and wraps it around on her warm lips and started sucking it like a whore she is. Afterwards, she talks dirty as she slides his cock down to her huge boobies and give him a nice tittyfuck. Later on she spreads her legs while Brick licks and eats her MILF pussy until she is all wet and dripping. It doesn't tale long until he fuck her hard and give what she deserves – intense deep fuck to her tight pussy and ass and when he cannnot hold any longer, he aims to Alura's face and unload a huge cum across her mouth and tits.
Starring: Alura Jenson
Mobile Brazzers Network Site:
Mommy Got Boobs
More on Brazzers for Mobile...
July 11, 2014

Mobile Brazzers Presents:
White Yoga Pants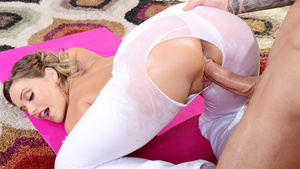 CLICK TO PLAY VIDEO

After a tiring day with another yoga class, Mia Malkova badly needs some relaxing massage her trainer, Richie Black gladly offered her. But the more Ritchie rubs her sore body, the more she becomes horny. so by the time Ritchie is about touch her big natural tits and juicy booty, Mia Malkova is already dripping wet all she wants is to get a taste of his long thick cock, She stop fantasizing and make it for real, sticks that fat cock in her mouth and licks it's head down to the balls which delivers extreme sensations. Mia is so excited she just tore off her tight yoga pants making hole to get access to her pink pussy. She bends over and spreads her legs and fuck Ritchie's cock so hard until she came all over it. And when she feeling more relax, it's the perfect time for Ritchie to splatter a huge load all over her sexy face!

Starring: Mia Malkova

Mobile Brazzers Network Site:
Dirty Masseur

More on Brazzers for Mobile...







These porn videos work great with smartphones such as:

Apple Iphone iTouch AT&T

Google Android Phones for T-mobile:
G1 - MyTouch - Motorola Cliq

Verizon Android Phones:
Motorola Droid - Droid Eris

Sprint Android Phones:
HTC Hero

Palm Pre

Blackberry Storm - Storm2
and other Blackberry Phones